Chances of chat feature to return to the Facebook app
Messenger was released as an individual application back n 2011 and since then Facebook was insisting on its users installing Messenger for texting and calling there might be chances of Facebook integrating the messenger application back into the Facebook application. The feature is currently in test mode as per Jane Manchun Wong a web app developer and bug hunter and will let you access chats and other messenger features from within the app. So when you press the messenger icon in the Facebook app it will take you to the new chat option instead of opening the messenger application separately.
The chances of the chat feature returning to the Facebook app are uncertain, as it depends on various factors and the strategic decisions made by Facebook. However, I can provide you with a brief overview of the topic in approximately 1000 words.
In the early days of Facebook, the chat feature was an integral part of the platform, allowing users to communicate with their friends and connections in real time. It provided a convenient and immediate way to exchange messages, share updates, and engage in conversations. However, over time, Facebook made significant changes to its messaging ecosystem, leading to the introduction of standalone messaging apps like Facebook Messenger.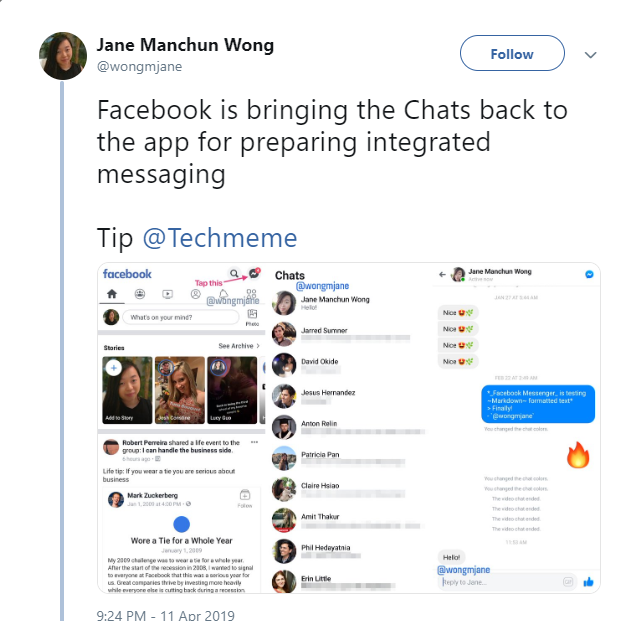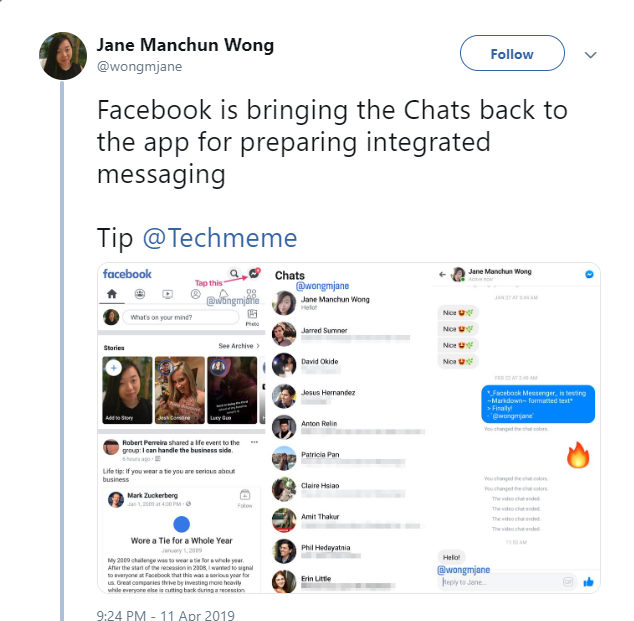 As per Jane, the new update for the chat section would contain only basic functionalities and in order to react to the texts received and make calls, you will have to open Messenger separately.
Facebook made a strategic decision to separate its messaging functionality from the main Facebook app and introduced Messenger as a standalone application in 2011. This move was aimed at providing a more focused and streamlined experience for messaging, while also enabling Facebook to experiment with additional features and monetization options specific to messaging.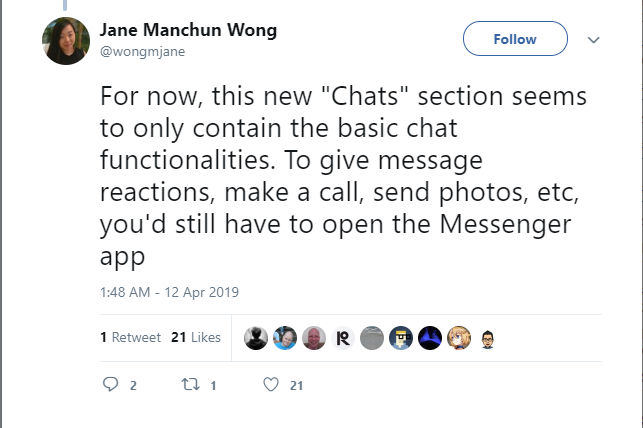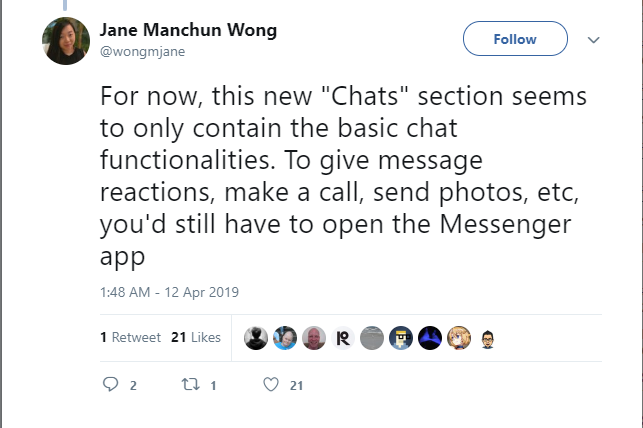 The feature is still in test mode and available to very few numbers of people as of now. So in view of the integration of Whatsapp, Instagram, and Messenger, Facebook's new step is to return to its origin and bring a huge number of users within the app.
This decision of Facebook is beneficial for its users as they would get a choice to remove Messenger and save them a lot of storage space. But users will have to wait for a few months to get this feature available for everyone.
There's also a hint that Facebook might roll out the new changed UI that they have been working on since January, for everyone soon.
However, it's important to note that Facebook's strategy and priorities can change over time. The company continuously evaluates user feedback, market trends, and competitive dynamics, which may influence its decisions regarding the chat feature. If there is a significant demand from users to reintroduce the chat feature within the Facebook app or if market conditions shift, Facebook might consider revisiting its approach.
In conclusion,
the chances of the chat feature returning to the Facebook app are uncertain. Facebook's strategic focus has been on developing Messenger as a standalone messaging platform and integrating messaging services across its platforms. While the chat feature may have been a fundamental aspect of the early Facebook experience, the company's current direction suggests a preference for a dedicated messaging app rather than integrating chat back into the main Facebook app. However, as with any technology company, Facebook's decisions are subject to change based on user feedback, market trends, and competitive dynamics.