Online PDF recovery service makes it easy to recover lost PDF passwords
Have you forgotten your PDF password? Do you have a PDF document that always asks for a password?
Getting locked out of a PDF document is sometimes the most frustrating thing a man may experience. The good news is that there is a new PDF password remover in town that helps you to unlock your PDF and make it easy to copy and edit the document.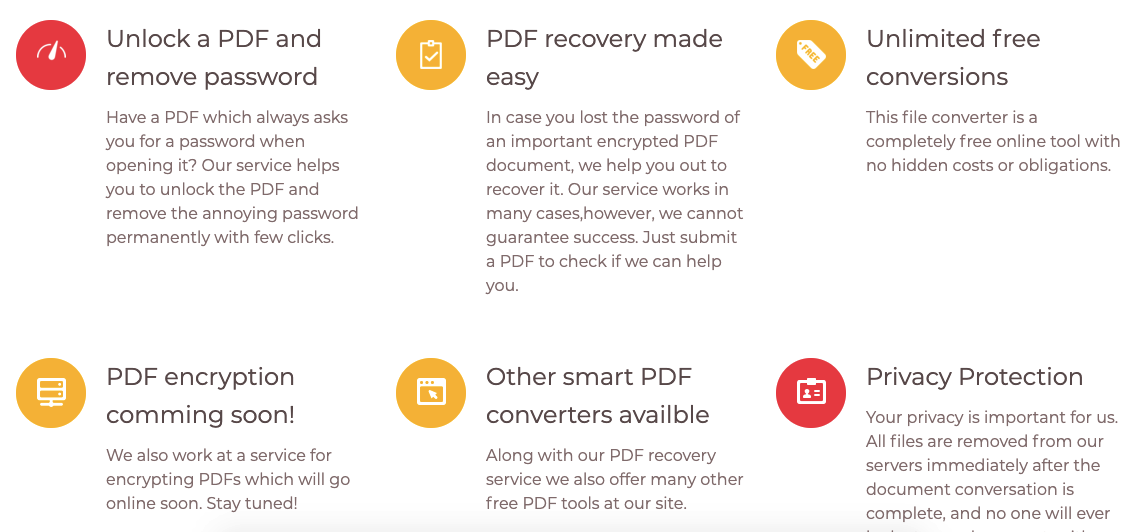 Unlock PDF helps you to unlock the PDF and remove the annoying password permanently with few clicks. This easy-to-use software tool can unlock the security restrictions attached to a PDF with a few clicks of your mouse.
This software tool allows you to unlock a PDF's password, which allows you to print, copy, or edit a document, as well as modify text, change security settings, and add or delete pages. Using Unlock PDF a locked PDF can be unlocked in a matter of seconds, allowing you to have full access to a document saving tons of your time.
The most striking feature of this new service is that it is completely free. There are no hidden costs or obligation. Just a few clicks and your annoying passwords are gone.
Further, Unlock PDF also provides with conversions that are also free. There are also other PDF tools services provided by Unlock PDF.
Privacy is becoming an issue these days. People are afraid that their data may stay in the server even after converting the file. Unlock PDF believes the privacy of their user to be of utmost importance to them. When a user removes password from a PDF using Unlock PDF all files are removed from servers immediately after the document conversation is complete, and no one will ever look at documents either.
The process is also very simple and easy, unlike other software where you have to go through a complex process in order to remove a password.
To get started, either drag a file that you want to unlock from your computer and drop it into a "Drop Files Here" field on the main web page, or click "Choose File" and select a document that you want to upload manually from your computer.
Then in just a matter of seconds you will be freed from the frustrating password. This Unlock PDF service also allows you to download your file. Once your PDF has been unlocked, you will be given two options to view the document — you can either view it or download it in your web browser.