Top 5 Free Email Providers In 2021
Whatever your requirements are, you need an email account – for networking, job recruitment, transferring files, setting reminders or meeting with colleagues.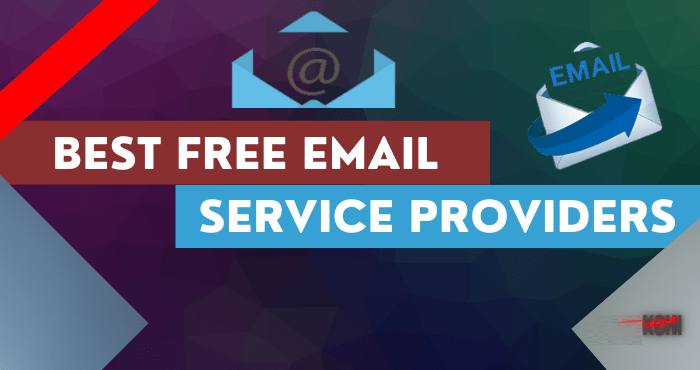 We are still dependent on emails for a surprising number of things, even though there's a rise in office chat platforms. Not every email service is free; that's really unfortunate. Even if there are some free email providers, those might not be the easiest to use or have all the features you need.
It can be really challenging to find a perfect email service provider that's for free and has the right features with usability. To make things easier for you, we provide you with a list of the different types of email accounts you can set up for free. You can host your account right now for free, followed by the best free email providers given below.
Types of Email Accounts
You will find two main types of email accounts to choose from:
You can use one of three major email protocols like POP3 and IMAP to do so. And you can exchange if you want to access your email from different locations or devices online.
Let's briefly go through these different types of providers and protocols.
5 Best Free Email providers are:-
Gmail
AOL
Outlook
Yahoo! Mail
iCloud mail
1.   Gmail
One of the Unique Feature: Native File Collaboration
Anyone who already uses Google products and loves the rest of them, Gmail might be an apparent top pic, but it is just too versatile to get our first slot. The second-highest email provider market share is with Gmail (behind Apple iPhone's native email app).
All the communication options in your inbox make Gmail so popular. Once you have a Google account, you can access Gmail as a regular email inbox tool. Gmail is built into the Google suite, making it easier to access a group of free apps that allow you to chat, share files, and video conferencing with your contact list friends.
It will allow you to customize how your inbox is displayed with the help of Google hangouts from the inbox's left sidebar. You can also set meetings and reminders on Gmail's intuitive calendar.
Pros:-
Gmail allows you to un-send emails.
Gmail allows free 15GB email storage.
It will let you access from any internet connecting device.
Almost provides 99.9% protection from suspicious/spam emails.
To write email faster, Gmail provides you with text suggestions.
2.   AOL
One of the Unique Feature: Unlimited Storage
It is for most of the communication you use Emails. It feels nostalgic to type those words – America Online) for a good user experience, they have kept up with today's standards, and now once again, it is one of the best free email providers.
Verizon purchased AOL in 2015; AOL buys up everything you expect from your email provider. Like its classical news-driven homepage, current spam filters and virus protection and everything else you wish it from. You can easily send text and instant messages to your contacts from specific windows in your email inbox.
AOL does provide much more than Gmail, though:- Unlimited storage, and you can also import your contacts from CSV, TXT, or LDIF files, so you're not creating your "buddy list" from scratch.
Pros:-
It provides unlimited storage.
It is highly customizable.
To reduce errors, they also offer a spell checker.
3.   Outlook
One of the Unique Feature: Multiple App Integrations
Anyone who connects with others through many different platforms should use it without any doubt. You can thank Outlook for the outdated domain name "Hotmail.com" email address if you ever cringed out of it.
But you can thank Microsoft for the excellent news that they reinvented its longstanding email service. And your old free Outlook.com email address has many advanced features waiting for you.
Like Gmail, it touts a calendar and message filter, and Outlook has also integrated with several other popular communication apps.
For example, you can contact task management software such as Trello — making it way easier for non-Outlook users to reach and work with it without leaving their inbox.
Outlook provides (offers) a super clean interface along with 15GB of free storage.
Pros:-
It has a great search feature.
It has an excellent email organization.
You can easily access other Microsoft apps like Skype and many more.
It provides aliases that add anonymity to your email.
You can use add-ins with Outlook-like with Excel or Word.
4.   Yahoo mail
One of the Unique Features: Media and attachment history
A person who frequently sends and receives emails Creatives can use it without any doubt.
Yahoo mail is one of the other well-known free email providers that sits just behind AOL in storage space. Yahoo mail provides 1TB whooping storage space (that's a terabyte) and for free. And Yahoo mail also comes with a few key features like social media integration.
With Yahoo mail, you can also have custom background themes and search for critical features.
If you've ever attached or received any photo, video, and document via email in their tabs on your inbox's sidebar, you can easily find it because it has excellent organization. This feature makes it appealing to those who share documents regularly or simply want an album made of every photo they've ever had shared.
Pros:-
You can seamlessly connect with Yahoo calendar.
It has an outstanding email organization.
It has customizable themes.
For new emails, you get instant notifications.
To make your account safe and secure, it has decent security and safety features.
5.   iCloud Mail
One of the Unique Features: Label senders as VIPs
Apple Mac users who want everything on one system should use this email service provider. If you're a Mac user, you have to consider iCloud mail as your email provider. You can sync your photos, files or emails as this free email account comes with 5GB of storage.
One thing to keep in mind, and that's important to note; storage space is shared with all of your apps and devices. So make sure to keep in mind that you might eat up your email storage space if you click a lot of pics on your iPhone. Upgraded plans start at $0.99/month and go up to $9.99/month.
You get the ease of integration that's one of the most significant advantages of using iCloud over other email providers on this list. Apple always builds their desktop and iPhone mail apps by keeping their clients' requirements in mind, but it pays special attention to iCloud users to make the experience delightful.
Pros:-
It has the best search functionality.
Saves time and automatically filter important messages.
Provides 5GB free email storage.
It comes with one click 'Unsubscribe' feature.
Wrapping up
So here we got the five best free email providers. However, we mentioned the list with the features and why you should use it so that you could make an informed decision. If you still have any questions regarding any email provider, please ask us in the comment section.