What is GC Invoker Utility
Is there Adobe GC Invoker Utility running in your task manager? Do you know what it means in Windows 8 and Windows 10? However, many other Adobe processes are also running at the startup, such as Adobe Creative Cloud, Adobe Updater Startup Utility and AdobeGCClient.exe.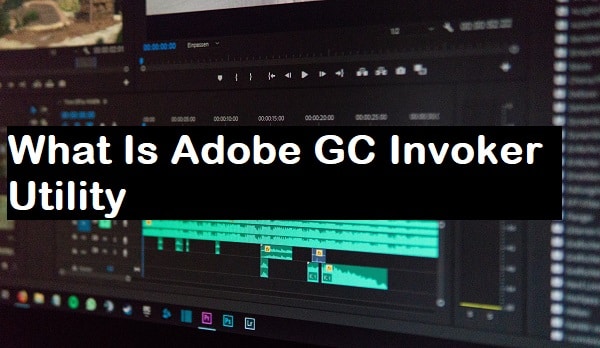 This article will show you what this Adobe GC Invoker Utility is for. Moreover, we will also show you whether it will pose threats to your computer or why you need it run at a startup. Additionally, we will walk through the steps for how to disable it from the startup.
What do you mean by AGCInvokerUtility.exe?
It belongs to the Adobe GC Invoker Utility developed by the Adobe system. You can open the Task Manager and locate the startup processes to view the file details for understanding. Here, you will get to see that this file is the internal name of GC Utility.
As you can see, the .exe at the end of the file means that it is an executive file. By default, you can locate this file in C:\Program Files (x86)\Common Files\Adobe \AdobeGCClient. However, now, everyone knows that it is not a Windows-based process.
But still, you can leave it alone unless something goes wrong with it.
How to check whether it is active on your computer?
If you want to reveal whether this program is running in your system or not, all you have to do is enable the task manager. You can follow the steps given below to do so.
Press Ctrl+Shift+Esc and click on the task manager.
Click on the startup and search for this program.
Is GC Invoker Utility a virus?
From the above definition, we can assume that it won't cause any damage to your computer. But sometimes, some malware behaves like this file and brings viruses to Windows 10, 8, 7 and especially in the C:\Windows or C:\Windows\System32 folder.
In that case, you will start facing an AGCInvokerUtility.exe application error in your system. That's why you have to be careful if there is any malware masquerading as this program. If there is any other program with this name, keep in mind that it must be a virus and will start infecting your computer in the following ways;
Stealing your data.
Interrupting your current activities.
Crashing and freezing your system.
Unauthorized access to your computer applications.
Your computer slowing down.
Making it harder to connect to the network.
If you are facing these risks, it will be a better idea to disable this program.
Is there any need to disable GC Invoker Utility?
It is better to leave this decision on your Windows operating system. However, Adobe developed processes like Adobe Updater Startup Utility, and AdobeGCClient.exe need it in the system; otherwise, it will affect the working culture of your computer.
But if you are one of those whose AGCInvokerUtility process got affected by the AGCInvokerUtility.exe application error, it is necessary to get rid of it. Keep reading this article to explore some practical ways to get rid of it.
How to disable GC Invoker Utility?
Below, we will walk through four practical ways to disable this program from a startup.
1.    Restarting the computer in the safe mode
If you notice that your computer starts getting slow due to this program, you have to restart it safely. Now, you have to evaluate your computer's performance after restarting. But if your PC is still slow, you can move to the following two ways.
Want to learn how to restart the computer in a safe mode? Here are the steps to do so.
Click on the Windows start menu at the bottom left corner of your screen and press the power
Now, you have to press the restart button while pressing the shift function key.
Click on the Troubleshoot and select startup settings.
Lastly, you have to click on the Advanced restart and choose the Safe mode with networking.
2.    Use the task manager
One of the easiest methods to disable this program is using the task manager. First, you have to press the Ctrl+Shift+Esc simultaneously to open the task manager. Now, scroll down and right-click on the application. Click on the disable option to complete the disabling process.
3.    Use the control panel
You can also give a try to the control panel to disable GC Invoker Utility from startup. Only you have to type the Apps and Features in the Windows search box at the bottom left corner of your screen and click on the search button.
Now, you have to find and right-click on this program and select the uninstall option from the drop-down menu. On the other hand, if you are a Windows 8 user, you must press the Windows key + C and select the settings.
Visit the control panel, click on the uninstall program and locate the application you want to disable from your system. When you are going through the disabling process, make sure to select all the files associated with this program.
4.    Disable GC Invoker Utility using a third-party tool
Advanced System Care is one of the robust and comprehensive helpers for you compared to other third-party tools. It comes with a professional toolbox known as a process manager, which ends the process and prioritizes the specific procedures.
Download and install Advanced System Care in your system.
Go to the toolbox and click on the process manager.
Now, open the IObit Process Manager and right-click on the AGC Invoker Utility.
Click on the end process. Or you can also choose to set a low priority for it.
That's it! Now, this program is no longer present in your system, and you can see your computer is running smoothly.
Wrapping up
GC Invoker Utility is a practicable file that comes with Adobe's flagship programs. It provides the extension to enhance the performance of the flagship Adobe program. However, it is also a harmful add-on that will affect the current performance of your computer. Some files present on your PC may behave like this program, which could threaten your computer. Therefore, you have to check whether it is affecting your computer performance or not.