Jeff Bezos' Retail Challenge
The Amazon CEO and founder drops in a message for the company's retail competitors in his annual letter to shareholders, challenging them to a price comparison on the minimum wage that is paid to Amazon employees as they moved to a $15 minimum wage in the USA around the end of last year.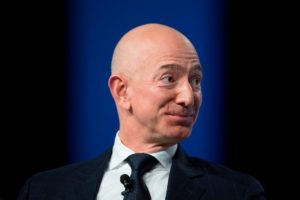 This did have some cuts in the benefits and stock grants, which increased the pay off a lot of their workers. These new measures taken by Amazon are a challenge for the other competitive retailers as this wage is considered very progressive considering the $7.25 pay per hour going on currently.
This has definitely inspired some major retailers like Target who is set to increase their hourly pay to $13 per hour in June of this year and further moving to a $15 by the end of 2020. Walmart has also gone to an $11 per hour and Costco a with a whopping $15 per hour by the end of March. These huge changes are also occurring because of the increasingly competitive job market with US unemployment measured at 3.8%.
As employees are getting hard to find and harder to keep it has made retailers spend more on the staff and manpower, especially Wal-Mart, which has extreme overhead related to the retail locations which employees more than 1.5 million people of the US and somewhere around 2.2 million worldwide. Similar with Amazon as their wage increase has benefited a major part of their employees and the gap in workforce size and costs is partly the reason why Amazon can turn into a little more intense with its pay increase.
This challenge by Bezos' is definitely going to end up working out for him because as of now he is winning and if this drives any other company who reaches the mark or increases it further, the credit for motivation is all for him.