Pete Lau is excited for the next One plus device launch
On 17th April Pete Lau, the CEO of One Plus tweeted about his excitement of unveiling the One Plus 6 successor.
He gave a hint in the tweet saying, Smooth is more challenging than being rapid – A true test of hardware and software, which gives us a shred of strong evidence that One plus 7 will be faster and smoother in terms of software with rigid hardware.
Pete Lau's tweet: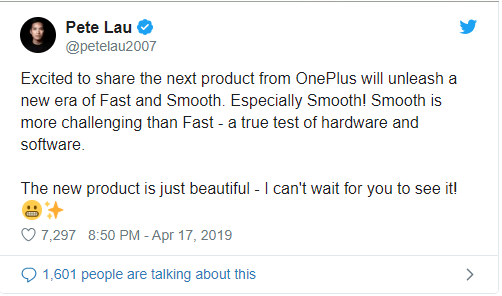 Recommended News:
The new One plus device will be 5G supported and will be called One plus 7 Pro with an upgrade in the display. This gives us a hint that the price of the phone can be somewhere close to Samsung S10, Huawei P30 though one plus has not revealed the price yet and but the upgrade that one plus is going to provide in its upcoming flagship will surely increase the price of the phone.
Lau said that the company he's spending three times as much on display than the previous models and expecting it to be more fast and smooth to stand above their competitors. A 90hz screen that's especially for gaming smartphones which mean 90 frames per second assuring a better animation quality.
"The first time I saw it myself, I was stunned," Lau says.
While the company stays quiet about what's under the hood. But with 3 times better display over its predecessor, there is a lot of expectation on the upcoming flagship by One plus. The recent leak about its features says Snapdragon 855 processor, as well as triple camera, are set up. Moreover, the three cameras will be 48 MP main lens, 8Mp telephoto lens, and 16 MP ultra-wide lens.
Lau also said that One plus 7 will be 5G supported but the company won't boast around it as they are aware of the 5G availability currently and in the near future.