Samsung Galaxy Foldable are breaking, the reviewers complains
Samsung Electronics faced a drop of more than 3 percent on Thursday as a lot of cases of the folding smartphone Galaxy Fold reported that phone broke into two pieces.
The foldable smartphone by Samsung is priced at $1,980 has been given to only gadgets reviewers so far and few of them have reported that the screen of the foldable smartphone disconnected and started flashing on or off. Samsung already started taking pre-orders for Galaxy fold but they went out of stock and stated that the stock is forced until its retail launch.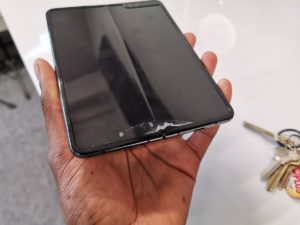 "Samsung's decrease in stock was caused due to the reports of Galaxy fold breaking", said Daniel Yoo the head of the global strategy and research at Kiwoom securities. Above that, investors also acknowledged to Samsung's part in the launch of the next-gen 5G technology.
Recommended News:
"With Qualcomm and Apple deal, the expectation for 5G was very high, " Yoo said.
Apple and Qualcomm set aside the long-term dispute and joined hands for the new 5G technology this week and Apple also had paid Qualcomm for the same. So, there are possibilities that Apple could release a 5G iPhone sooner with Qualcomm's technology as they are one of the top suppliers that can help Apple to implement 5G technology in its new devices.
However, Samsung's devices, i.e, Samsung Galaxy S10 and Galaxy Fold are making their way for their new devices with the new 5G technology, Yoo reported.
"If there is any chance of demand slowdown due to quality control, this will have a quite significant negative impact on the IT sector as a whole," Yoo said, noting that demand for chips in the first half of 2019 was already weak.
For the faults in their Galaxy fold devices, Samsung released a statement:
A limited number of early Galaxy Fold samples were provided to the media for review. We have received a few reports regarding the main display on the samples provided. We will thoroughly inspect these units in person to determine the cause of the matter.

Separately, a few reviewers reported having removed the top layer of the display causing damage to the screen. The main display on the Galaxy Fold features a top protective layer, which is part of the display structure designed to protect the screen from unintended scratches. Removing the protective layer or adding adhesives to the main display may cause damage. We will ensure this information is clearly delivered to our customers.
Yoo commented on the reports that the devices appeared to be over-stretched.