Selena Gomez Has A Matcha Date With Her Dog In Los Angeles
The 27 years old Hollywood pop sensation Selena Gomez is loved and adored by millions, She has a huge fanbase and once she remained the most followed person on Instagram. Selena Gomez was currently seen taking a break from social media in order to focus on her mental health. After her breakup with Justin Bieber and her kidney surgery for Lupus, the star was going through a lot. She had to go to rehab again for regaining her mental peace and now it looks like she is back positively and starting to feel happy again.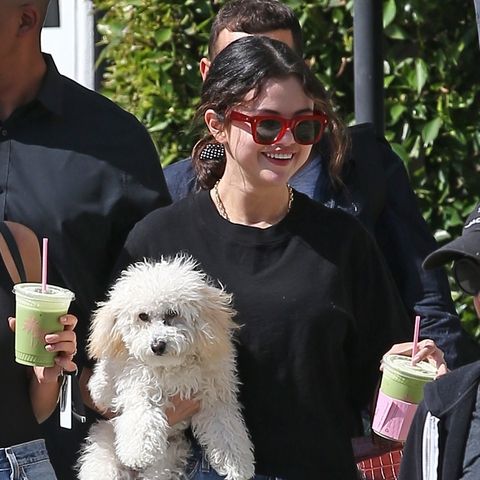 Recently she was spotted spending some good time with her dog Winnie. The white-colored cute dog is definitely adored by many and Selena was carrying her furry friend around in her hand meanwhile enjoying some smoothies.
Selena was seen wearing some cool shades with plain black top and jeans. She looked really happy as she was walking with her pup. Winnie is spotted frequently with the singer whether it is birthday parties or hikes or something else, he is always around. Winnie was also there at Coachella that the star attended in April.
"Selena is focusing on her mental health and is been reading, exercising, eating well and is been spending some time with her close friends and family", revealed a source about the star.
When Selena left Instagram few months back she informed her fans that she wants to focus on herself in a while and she also revealed that she is finally at the age where she loves being alone.