Trump Says Stock Market will crash if He Loses
The US President makes a claim that if he loses his 2020 electoral campaign, the stock market will crash miserably. Donald Trump made that claim through his Tweet on Saturday. The President is kicking off his 2020 campaign with a rally in Orlando in Florida this Tuesday, seems to be testing the mood of the public with that warning.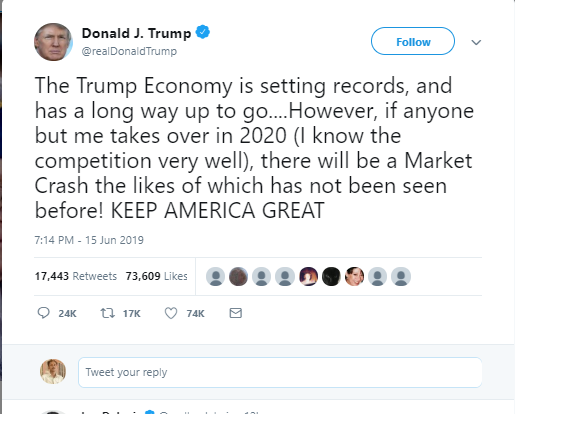 However, this is not the first time that Trump warned of dire consequences in the economic arena if he is not allowed to have it his way. He has done it multiple times in the past, especially in 2019. He had claimed in February that if the Opposition had won in 2016, the stock markets would have come down by 10,000 points by now. Before that, in January, he went on to suggest that if you want to see the stock market crash, you need to opt for impeaching Trump.
With that background, it should be interesting to note that the US is starting to stare in the face of recession. The recession is likely to hit the US economy within the next year, and the chances have grown to up to 30 per cent. Trump seems to be trying the fear factor as a means to achieve the 2020 success. This will, perhaps, be one of his many "warfare techniques" in the run up to the presidential campaign that will rule the US for the next 18 months.